Privacy Policy
Privacy Policy
Our Privacy Policy was last updated on June 29, 2023.
This privacy policy for Bama ltd ("Company," "we," "us," or "our") describes how and why we collect, store, and use ("process") your Private Data when you use our services ("Services") in website Bama website. By using our Services, you agree to the collection and use of your Private Data as described in this policy.
We use your Private Data to provide and improve the service. By using the Service, You agree to the collection and use of Private Data in accordance with this Privacy Policy.
We reserve the right to change this policy at any time and will list these changes in the updates section of the policy. By reading this notice and visiting the site, you agree that you understand that customers will not be personally notified when this policy changes.
Interpretation and Definitions
Interpretation
The following definitions shall have the same meaning regardless of whether they appear in singular or in plural.
Definitions
For the purposes of this Privacy Policy:
·       "Company" (referred to as either "the Company", "We", "Us" or "Our" in this Agreement) refers to Bama ltd.
·       "Bama Website" refers to Bama, accessible from Bama website
·       "User/visitor" means visitors in our Bama Website bama.bio from their internet browser.
·       "Service" refers to the Bama Website.
·       "Account" means a unique account that Bama website visitors created in Bama Website to access our Service or parts of our Service – creating their Bama page.
·       "Customer" means Bama Website visitors that created account.
·       "Private Data" is any information that relates to an identified or identifiable our Customers. Customers Data means any Private Data relating such as a name, phone, email, address, Customer website, Customer profession, and Customer data from social media Facebook, Instagram, TikTok, Youtube, Google business including profile info, media, Posts, map and etc.
·       "Bama page" means a unique URL that customers created in their account and the content in this page it's their Private Data.
·       "Cookies" are small files that are placed on your computer, mobile device or any other device by a website, containing the details of your browsing history on that website among its many uses.
·       "Data Controller" for the purposes of the GDPR (General Data Protection Regulation), refers to the Company as the legal person which alone determines the purposes and means of the processing of Private Data.
·       "Device" means any device that can access the Service such as a computer, a cell phone or a digital tablet.
·       "You" means customer - Accessing or using the Service, or the company, or other legal entity on behalf of which such individual is accessing or using the Service, as applicable.
·       "Bama service" The service include building Bama page after creating account in Bama website. The content in their Bama page is the content in their social networks like Facebook, Instagram, Youtube, TikTok, Google business.
·       "Apps" means apps created by the company in the social networks. These app allow the customer to collect private data from his social network pages to display in customer Bama page. Customers in their account admin panel click on login buttons from different social networks and give permissions to fetch their private data from these networks. These customer Private Data store in our secure database servers. 
Private data Collected from Bama website customers
Private data may be collected by Bama website in many ways. This Private Data includes:
1.    Customer identifying Private Data like name, address, email, phone number, profession, customer business name.
2.    Server data related to the IP address you used to visit Bama website which includes your address, browser, OS, access time, and site activity.
3.    Financial Private Data related to your orders including your payment method and identifying payment Private Data. We didn't store financial Private Data collected on our site for transaction purposes. That Private Data gets sent directly to our payment processor, our company payment processors "Cardcom".
4.    Social network data including Facebook, Instagram, Youtube, TikTok, Google business. Customers in their account admin panel click on login buttons and give permissions to fetch their data from this networks and store in our Bama website
5.    Mobile device Private Data such as your device ID, model, and location, if you use our site by accessing it through our website.
How do we collect customer's Private Data?
We collect customer Private Data directly from the customer when:
·       Register forms to open account in Bama website.
·       Subscribed by Facebook or Google account.
·       In Account admin panel allow us to fetch profile and media info from social networks after login to our apps and allows you to grant only a subset of permissions that we ask for.
·       Interact with us over the phone.
·       Interact with us in person.
·       Attend our company event
·       Subscribe to our mailing list
·       Apply for a position with us as an employee, contractor or volunteer.
Tracking Technologies and Cookies
We use Cookies tracking technologies to track the activity on Our Service and store certain Private Data. Tracking technologies used tags, and scripts to collect and track Private Data and to improve and analyze Our Service. The technologies Bama website use may include:
Cookies or Browser Cookies. A cookie is a small file placed on your Device. you can instruct your browser to refuse all Cookies or to indicate when a Cookie is being sent. However, if you do not accept Cookies, you may not be able to use some parts of our Service. Unless you have adjusted your browser setting so that it will refuse Cookies, our Service may use Cookies.
Cookies can be "Persistent" or "Session" Cookies. Persistent Cookies remain on your personal computer or mobile device when you go offline, while Session Cookies are deleted as soon as you close your web browser.
We use both Session and Persistent Cookies for the purposes set out below:
·       Necessary / Essential Cookies –
o
Type: Session Cookies
o
Administered by: Us
o
Purpose: These Cookies are essential to provide you with services available through the Website and to enable you to use some of its features. They help to authenticate users and prevent fraudulent use of user accounts. Without these Cookies, the services that you have asked for cannot be provided, and we only use these Cookies to provide you with those services.
·       Cookies Policy / Notice Acceptance Cookies –
o
Type: Persistent Cookies
o
Administered by: Us
o
Purpose: These Cookies identify if users have accepted the use of cookies on the Website.
How We Use This Private Data
Bama website use the Private Data collected from customers to:
·       Manage your account Private Data
·       Save/populate your Bama page content from your Private Data
·       Email your account confirmation
·       Manage purchases and payments
·       Communications Bama website may use your Private Data to contact you with newsletters, marketing or promotional materials and other information from the company only and not third party ads.
·       Increase your Bama page efficiency
·       Notify you of updates
·       Offer new products
·       Monitor and prevent theft
·       Request your customer feedback
·       Resolve account disputes
·       Respond to your service requests
Retention of Your Private Data
In Short: We keep your Private Data for as long as necessary to fulfill the purposes outlined in this privacy notice unless otherwise required by law. In other words, The Company will retain customer Private Data As long as the customer has an account with us.
We will only keep your Private Data for as long as it is necessary for the purposes set out in this privacy notice, unless a longer retention period is required or permitted by law (such as tax, accounting, or other legal requirements).
When we have no ongoing legitimate business need to process your Private Data, We will notify you and then we will either delete or anonymize such Private Data, or, if this is not possible (for example, because your Private Data has been stored in backup archives), then we will securely store your Private Data and isolate it from any further processing until deletion is request by the customer.
Transfer of Your Private Data
The Company will take all steps reasonably necessary to ensure that your data is treated securely and in accordance with this Privacy Policy and no transfer of your Private Data will take place to an organization or a country unless there are adequate controls in place including the security of your data and other Private Data.
We didn't sell or deliver/share the customer Private Data to any third parties.
We didn't processes customer Private Data for targeted advertising.
Disclosure of Your Private Data
Normally, your Private Data stays on our site. However, below we have listed the situations that may require us to share the Private Data we collect from you:
Business Transactions
If the Company is involved in a merger, acquisition or asset sale, Your Private Data may be transferred. We will provide notice before Your Private Data is transferred and becomes subject to a different Privacy Policy.
Law enforcement
Under certain circumstances, the Company may be required to disclose your Private Data if required to do so by law or in response to valid requests by public authorities (e.g. a court or a government agency).
Other legal requirements
The Company may disclose Your Private Data in the good faith belief that such action is necessary to:
·       Comply with a legal obligation
·       Protect and defend the rights or property of the Company
·       Prevent or investigate possible wrongdoing in connection with the Service
·       Protect the personal safety of Users of the Service or the public
·       Protect against legal liability
Third-party providers
With our third-party providers for payment processing and hosting.
The Service Providers We use may have access to Your Private Data. These third-party vendors collect, store, use and transfer Private Data.
Security of Your Private Data
The company aim to protect your Private Data through a system of organizational and technical security measures.
We have implemented appropriate and reasonable technical and organizational security measures designed to protect the security of any Private Data we process. Taking measures to restrict access to only organizational personnel who need that Private Data to effectively provide services to you.
We didn't sell or deliver/share your Private Data to any third parties.
We didn't processes your Private Data for targeted advertising.
However, despite our safeguards and efforts to secure your Private Data, no electronic transmission over the Internet or information storage technology can be guaranteed to be 100% secure, so we cannot promise or guarantee that hackers, cybercriminals, or other unauthorized third parties will not be able to defeat our security and improperly collect, access, steal, or modify your Private Data. Although we will do our best to protect your Private Data, transmission of Private Data to and from our Services is at your own risk. You should only access the Services within a secure environment.
We are committed to ensuring that your Private Data is secure. In order to prevent unauthorized access or disclosure, we have put in place suitable physical, electronic and managerial procedures to safeguard and secure the Private Data we collect online.
Who is responsible for managing and Secure Private Data?
Our company have a designated person – IT director that responsible for:
·       Responsible for creating the policies and strategies to secure data from threats and vulnerabilities, educate the company employee and individuals associated with the company. Devising the response plan if the worst happens.
·       Prevent your Private Data being downloaded/stored by company employee on organizational, personal or any removable storage devices.
·       Preventing processing Private Data on all org and personal devices. Preventing the access, storage, and manipulation of platform data on any device within the company or by individuals associated with the company.
·       Keep your personal details secure and use the Private Data you provide consistently with applicable privacy and data protection laws and the terms of this privacy policy.
Deletion and Removal of Private Data:
The company offer her customers the right to request the deletion of their Private Data and understand the importance of data privacy. Here are three ways you can request access to, correct, or delete any Private Data that you have provided to us:
1.    By email: [email protected]
2.    By phone: +97233036330
You can also update, amend, or delete your Private Data at any time by signing in to your Account and visiting the admin panel section that allows you to manage your Private Data. Additionally, you may contact us to request access to, correct, or delete any Private Data that you have provided to us.
You can permanently and instantly delete all data at any time through the "Delete" button in your admin panel.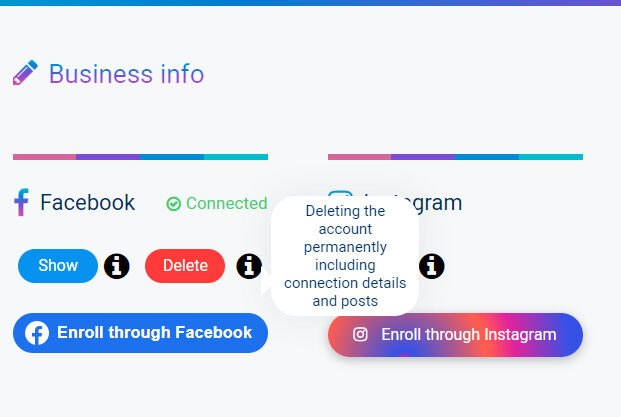 For video guide how to delete your Private Data in the admin panel please click this link: Video guide
If you have any concerns or questions regarding the deletion of your Private Data, please contact us using the information provided below.
According to the Facebook Platform rules (Platform Terms 4.b)
If you want to delete your Private Data for the "MYB App" on Facebook, follow the instructions below:
·       Go to your Facebook Account's Settings & Privacy.
·       Click on "Settings."
·       Go to "Apps and Websites" to see all your app activities.
·       Select the option box for "MYB App."
·       Click "Remove."
Changes to this Privacy Policy
We may update this privacy notice from time to time. The updated version will be indicated by an updated "Revised" date, and the changes will be effective as soon as the revised policy is accessible.
We may notify you of material changes either by prominently posting a notice or by directly sending you a notification.
We encourage you to review this privacy notice frequently to stay informed of how we protect your Private Data.
Contact Us
If you have any questions about this Privacy Policy, You can contact us:
1.    By email: [email protected]
2.    By phone: +97233036330
3.    Address: SHMOTKIN 10, Rishon Le Zion 75102, ISRAEL